Guided walking holidays to discover Corrèze
1 day = 1 discovery!
Full-board stay with guided walks of 7 to 20 km. 464 per person.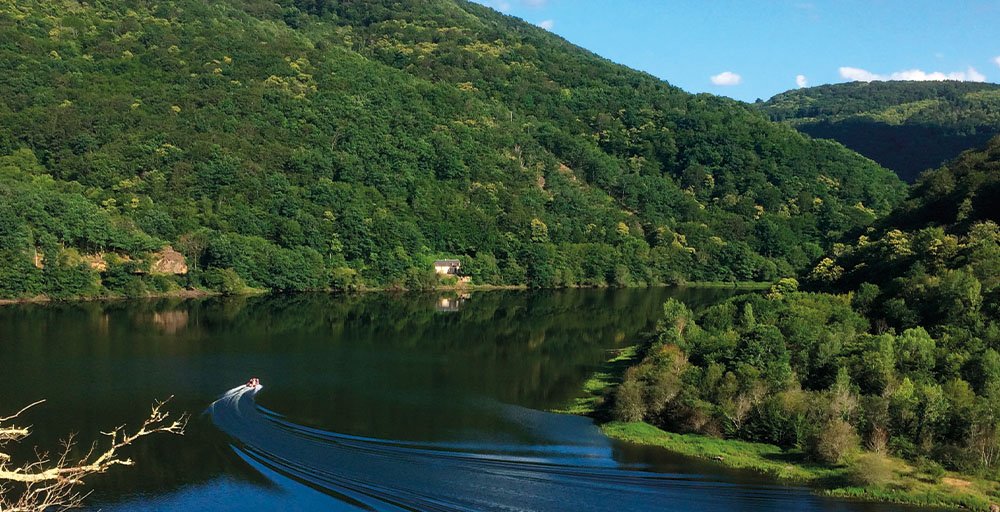 Hike between the Dordogne valley and the Cantal mountains to discover all the secrets of the Corrèze.
Apart from Tulle, what else do you know about Corrèze?
The Corrèze is well known, or perhaps not so well known, for its landscapes, valleys and wild places.
The Domaine du Lac de Soursac offers you the chance to discover the landscapes of the Dordogne valley, the little paths along the Luzège river, and also the buildings.
Your stay begins: you take possession of your accommodation. There will be a welcome drink for all the participants. We present the programme, the hikes, the differences in altitude…
Then the tour really begins, with one day following another. On the programme: the Rochers Noirs Viaduct, the Dordogne Valley, the Auvergne Volcanoes, a visit to Salers, the Luzège Valley, the Aigle Botté… (programme subject to change). At midday, depending on the level of the group and the weather, we return to the restaurant for lunch or a picnic. The tour finishes on Saturday after breakfast.
All our hiking holidays dates
The Corrèze is full of hiking trails and day or half-day walks.
Discover our all-inclusive walking holidays: full board from Sunday dinner to Saturday breakfast, wine and coffee with every meal.
And, of course, accompanied walks.
Let's have Corrèze in Cathéter!
From Sunday 4 to Saturday 10 June 2023
From Sunday 11 to Saturday 17 June 2023
From Sunday 3 to Saturday 9 September 2023
What do you need to plan for your special hiking holiday?
Hiking boots, hiking poles if you're used to using them, rucksacks, water bottles, caps…. And even a swimming costume, as the nearby lake can be a pleasant place to return to after a hike. Don't forget your bath sheets. Towels are provided but not sheets.
Domaine du Lac de Soursac
En envoyant ce formulaire, j'accepte que les informations saisies soient exploitées pour permettre de me recontacter. Pour connaître et exercer vos droits, notamment de retrait de votre consentement à l'utilisation des données collectées par ce formulaire, veuillez consulter notre politique de protection des données.