Welcome to the Domaine du Lac de Soursac, campsite and gîte village in Corrèze
A friendly holiday in the natural setting of Soursac in Corrèze
The Domaine du Lac de Soursac welcomes you from 28 April to 30 September for holidays that are all about conviviality and letting go. Cottages by the lake or in total privacy under the oak trees, large-capacity gîtes or camping pitches: there's something for everyone.
Rent a nature holiday, including summer activities, with no restrictions, right in the heart of the Corrèze, opposite Lake Pont Aubert in Soursac!
We took over the Pont Aubert campsite in 2021, which has been known for generations. We fell in love with the site: the forest, the water, the nature. 3 elements that we feel are essential in today's fast-paced world. At Domaine du lac, our customers tell us "we feel welcomed like friends, we feel right at home." Being there to make your holiday a moment of discovery, reconnection and relaxation, but also to challenge yourself with the hikes proposed by Max (!)… For us, these are just some of the attentions we pay to you… Because you're worth it.
We look forward to welcoming you.
Muriel and Max
The Domaine du lac de Soursac, a variety of accommodation and camping pitches to suit all tastes
Whether you choose to rent a cottage on the shores of Lac de Soursac, a fully-equipped gîte sleeping 4 or 6, or a camping pitch for your caravan, motorhome or tent, it will only take you a few seconds or minutes to get to the lake and its fine sandy beach. All that's left for you to do is choose the accommodation that suits you best: cocooning, family get-togethers, adventurous…
Enjoy the comforts of home in an exceptional natural setting. From 2 to 6 people (30 to 42m2) with its 12m2 terrace overlooking the lake, garden furniture and television, your holidays in Corrèze will be all about relaxation and nature.
The cottages and chalets are located by the lake. With a surface area of 32m2 (4 people) for the cottages and 35m2 (5 people) for the chalets, relax at the mere sight of the water. All our cottages and chalets have a private covered terrace with garden furniture.
Holidays with your motorhome, caravan or tent, the ultimate in freedom, with all the equipment to match.
Would you like to go camping but don't have the necessary equipment? We can provide you with a fully equipped tent for 2 people: armchairs, stove, bedroom with 2 real beds.
Would you like to stay in Corrèze with a group?
The natural setting of the Domaine du Lac de Soursac, combined with the many walks and cultural visits nearby, is the ideal place for your group. All this combined with the friendliness and expertise of the team.
Travelling with your pet in Corrèze
Your 4-legged friends are welcome free of charge at the Domaine du Lac de Soursac. We have no doubt that they will love our large wooded park. We ourselves have several happy dogs.
Immerse yourself in Corrèze at the Domaine du Lac de Soursac between lake and forest
The Domaine du Lac de Soursac (formerly Pont Aubert) is set in 8 hectares of wooded parkland beside a lake with a beach and waterslide. An authentic natural setting to recharge your batteries and enjoy the riches of the Corrèze.
Put down your luggage (or your computer mouse) and let us show you around the estate! Once you've passed the sign for the town of Soursac, you'll discover a charming village nestling at an altitude of 550m. Green, woodland, river – the Corrèze, nicknamed the green country, lives up to its name. And you'll soon see that Domaine du Lac lives up to this nickname.
On the left, you'll see the lake. Opposite, the smell of pizzas and good food will not leave you indifferent. A few steps later, you'll find your accommodation or camping pitch, all under the sun or in the shade of the oak trees. Long live zen and invigorating natural holidays!
Activities and services available at the Domaine du Lac de Soursac
And all the free services at your disposal
Petanque, volleyball, fitness room, mini-golf, table tennis, board games, table football, Dutch billiards, reading corner, free wi-fi area…
Petanque boules, balls, mini-golf clubs, etc. are available on loan free of charge, and even more.
2023 rental rates for the Domaine du Lac de Soursac for 8 days and 7 nights
Overnight rentals available except from 29 July to 19 August.
Whether you are renting or camping, from 08 July to 19 August, take part in the FREE activities offered by the team: hiking, archery…
And for children, treasure hunts, games, archery…
2023 rates for camping pitches at the Domaine du Lac de Soursac per night
Arrival arrangements, tourist tax... For rentals and camping
Arrival from 3pm, departure 10am.
Booking fee: €12.
Tourist tax +18 years: €0.30/night for the campsite and €0.80/night for rental accommodation.
4 good reasons to stay at the Domaine du Lac de Soursac
User-friendliness first and foremost
We'll be delighted to show you around the region, serve you a treat in the sun on the terrace or teach you how to zumba like never before. We'll also be happy to organise get-togethers for you over an aperitif or a themed meal, so that you can all enjoy a good time together.
An exceptional location in Corrèze facing the Lac de Soursac
The Domaine du Lac is a forest of oak, fir and birch trees, with many sites to visit nearby in a variety of atmospheres. Farms and museums reminiscent of the Middle Ages, French and Japanese gardens, the eagle dam, otherwise known as the resistance dam… All you have to do on site is take a few steps down to the lake to enjoy its clear, pure water. Then cross the point to reach the lake's supervised beach.
Sit down on a stump and enjoy the calm of the site, listen to the birds that live here and let yourself be lulled by the sound of the stream… Don't want to cook? The lake restaurant is open from 08 July to 19 August every day for lunch and dinner, except Monday evenings.
Reception and bar open 7 days a week from 9am to 11pm
Do you have a question or a thirst? We're here to help you every day from 9am to 11pm.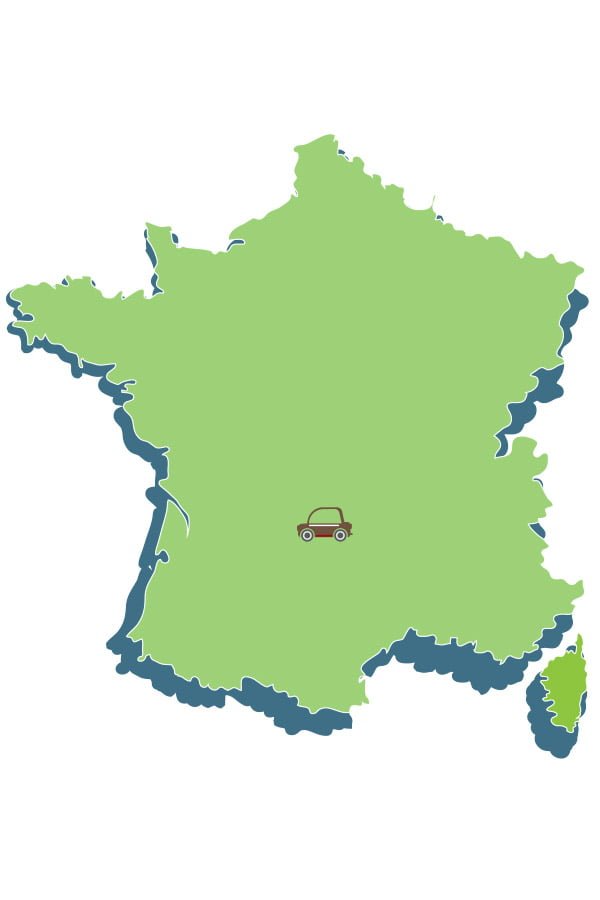 You are (soon) here, in Corrèze (Limousin)
How to get to the Domaine du Lac de Soursac?
By car :
By motorway A 89 Exit Ussel-Est or Ussel-Ouest.
By road :
From Tulle D1089.
From Clermont-Ferrand N89.
From Limoge D979.
From Aubusson D982.
In Soursac, follow the signs for "complexe touristique du Pont Aubert".
All roads lead to the Domaine du Lac!
Domaine du Lac de Soursac